Why you should visit Bosnia and Herzegovina
Bosnia and Herzegovina is the heart shaped land that lies in the heart of southeast Europe. It is here that eastern and western civilizations met, sometimes clashed, but more often enriched and reinforced each other throughout its long and fascinating history. Perhaps what is most important for the visitor to know today, though, is that BiH is a stunningly beautiful country with a vast array of landscapes, cultures, traditions and people. And as the old cliche goes 'people make the place' – and BiH prides itself on its hospitality and treating our guests as if they were family members. And family we take to heart.
The XIV Winter Olympics are long gone, but the slopes still remain, and so does olympic style skiing. Jahorina has made a great comeback as southeast Europe's best ski resort. Great skiing. Great accommodation. Great fun. All just a short ride from the capital of Sarajevo.
Bjelašnica Mountain (Sarajevo)
This Olympic mountain was the site of the men's slalom and has by far the most challenging ski trails in the country. Off the beaten tracks are ideal spots for cross country and tour skiing, as well as year round hiking, biking, and village tourism in the ancient highland villages.
Although it's only a tiny strip of the gorgeous Adriatic, Neum has become a major seaside resort. Ideally located between Split and Dubrovnik and just a short distance to Mostar and Medugorje, Neum is an inexpensive holiday spot for fun in the sun.
Jajce was the last stronghold of the Bosnian kings before it fell to the invading Ottomans in 1528. Known for the massive waterfall, Jajce represents multiple layers of this regions long history – with traces of Illyrian and Roman finds as well as the distinct Bosnian and Ottoman features.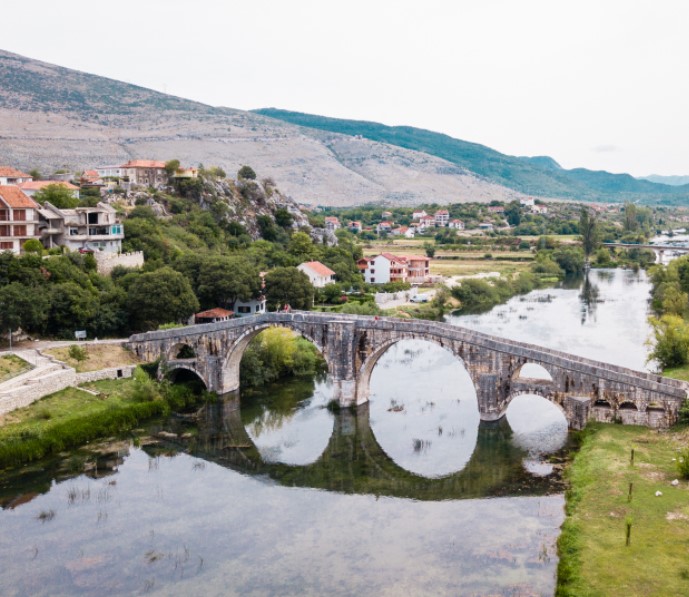 Arslanagić Bridge (Trebinje)
The underground river Trebišnjica and the city have always been known for the enormous old mills, today, they remain a symbol of Herzegovina's past, when everything was directly connected to the power of nature. That power was clearly evident in Trebinje.
Kraljeva Sutjeska (Kakanj)
This tiny ancient village with its large Franciscan church and monastery one has well-kept houses, gardens in perfect shape and the sun reflecting off the water and white stones. One of the oldest mosques in Bosnia and Herzegovina is situated at the entrance of this village.